Features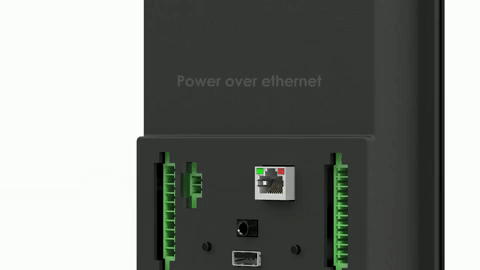 Option to power over ethernet
Three sensors
Temperature sensor detects room temperatures. Ambient light sensor adjusts automatically to room light. Proximity sensor enables an activation of screen when someone passes by. Ambient levels of screen brightness will adjust automatically to room light.
Video intercom capability
Includes echo-cancelling microphone featuring crystal clear audio for communication from room to room or with visitors at the door. Video Intercom allows seeing who is at the front door, check in on sleeping babies or call everyone in the house for dinner.
Artificial Intelligence ready
Face recognition Voice recognition Noise cancelling
Fully customizable via open API
Freely customize and connect smart home modules controlled by VEGA. Integrate any desired smart home app on VEGA in-wall touch for an easy to use control display to enhance personal experience.
License free kiosk lockdown app
Staros allows users to auto start videos, webpages and apps, as well as preventing unwanted third party from accessing into the Android system.
Optional peripherals and accessories
Stands and accessories